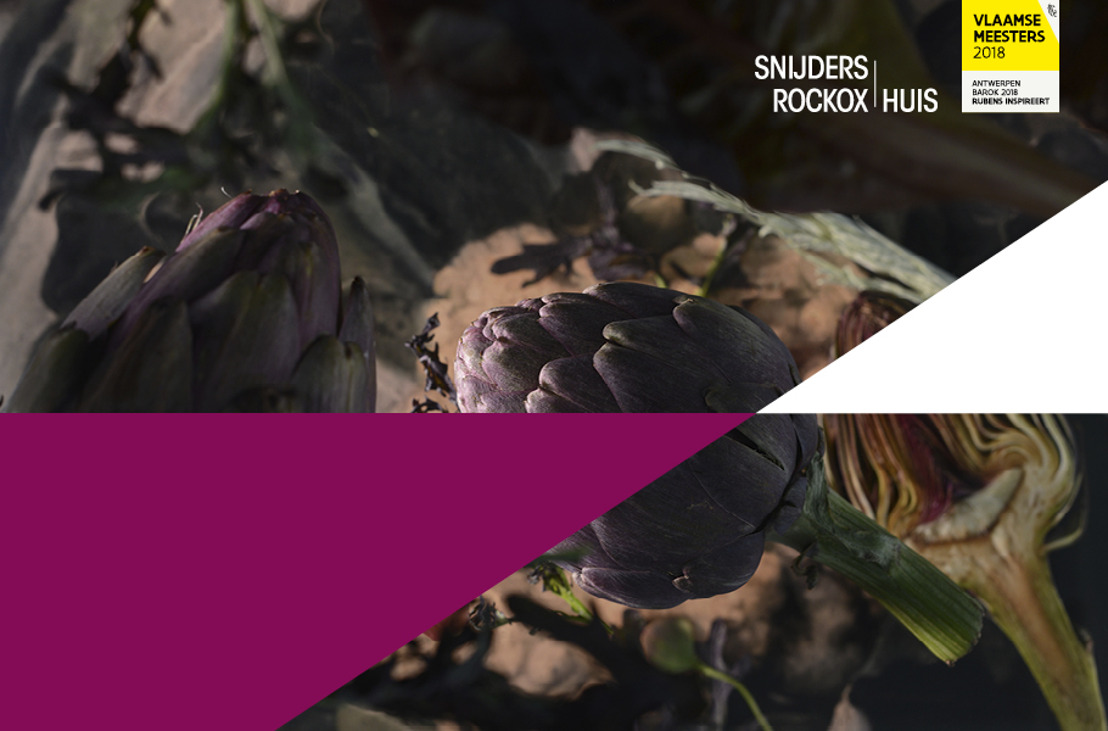 Snijders&Rockox House - Cokeryen – Photo Film Food
Tony Le Duc / Frans Snijders - 28.09.2018 – 13.01.2019
Thursday, September 27, 2018 — The renovated Snijders&Rockox House recently opened to the public. The two buildings, now carefully restored, belong to KBC, which turned the Rockox House into a museum some years ago and has now done the same with the Snijders House. We catch a glimpse over Nicolaas Rockox and Frans Snijders's shoulders of the making and promotion of art, of collecting and display, of markets and richly set tables, of nature and gardens, and of the humanist and the average citizen in the turbulent Baroque era. It is a unique Baroque experience.
The first exhibition to be held at the Snijders&Rockox House will zoom in on a culinary experience. The food photographer Tony Le Duc engages in a dialogue with Frans Snijders and his contemporaries, 17th-century promoters of good taste and of market produce fresh from the sea, the river and the countryside. He succeeds in offering a contemporary interpretation of the Baroque. Tony Le Duc elevates basic foodstuffs to the level of art a talent he shares with the Baroque painter Frans Snijders. Le Duc draws inspiration from the food still lifes of the Baroque, while offering a fresh look at that period.

Le Duc taps another source too, exploring the popular 17th-century cookbook of Antonius Magirus (1612). He picked out a selection of these historical recipes and presented them to 15 Antwerp chefs* to come up with contemporary versions of the dishes, which Le Duc then photographed. In doing so, he used the colour palette, the multiple layers and the theme of vanitas or transience that were common to the 17th century, but within a distinctive, Baroque vision for 2018.
'Carp and ginger; cinnamon and raisins; quail, thrush, chaffinch and suchlike in pastry; pottage...': these were all items on the 17th-century citizen's menu,as well as ingredients found in the impressive market scenes and still lifes of Frans Snijders and his contemporaries. Le Duc plays with colour and composition. Placing his photographs alongside 17th-century still lifes generates a special energy, which will be further heightened by the presentation of the photographs and videos in boxes on the ground: a horizontal exhibition that will dialogue with the paintings.

The result is a delectable exhibition in the house and studio of Frans Snijders himself. And when you're through feasting your eyes, you can treat yourself to a typical Baroque meal.
PARTICIPATING CHEFS
Seppe Nobels (Graanmarkt 13)
Johan Segers ('t Fornuis)
Dennis Broeckx (L'épicerie du cirque)
Bert-Jan Michielsen (The Butcher's Son)
Geert Weyn (Schnitzel)
Michael Rewers (Bistrot du Nord)
Wouter Keersmaekers (De Schone van Boskoop)
Davy Schellemans (Veranda)
Jöran De Backer (Sir Anthony van Dijck)
Olivier de Vinck (Kommilfoo)
Michael Yates (Sail & Anchor)
Thimothy Tynes (Atelier Maple)
Enzo Goormachtig (Dim Dining)
Kevin De Backer (The Gilded)
Jurgen Lijcops (Bar Burbure)

BIO: TONY LE DUC, MORTSEL, 1961.

Tony Le Duc has been photographing food for over 30 years. In the early part of his career, from the mid 1980s to late 1990s, he worked mostly for magazines, after which he illustrated cookery books and collaborated with leading chefs. He founded the culinary publisher Minestrone in 2004.
With his distinctive take on culinary photography, Le Duc produces cookery books that stand out from the crowd. Design, content and visuals are treated as equals and together form timeless culinary objects. His photographs and publications alike have received several international awards.
Practical information
28 September 2018–13 January 2019

Open: Tuesday to Sunday: from 10 a.m. to 5 p.m.; closed Mondays, 1 November, 25 December and 1 January

Entry prices: €8 / €6 / €0

Tours: for groups of up to 20 people. A tour costs €75 Info T +32 3 201 92 50 or inforockoxhuis@kbc.be

DOWNLOAD PRESS PACK AND HIGH RESOLUTION IMAGES:
www.snijdersrockoxhuis.be
Username: pers / Password: rockox