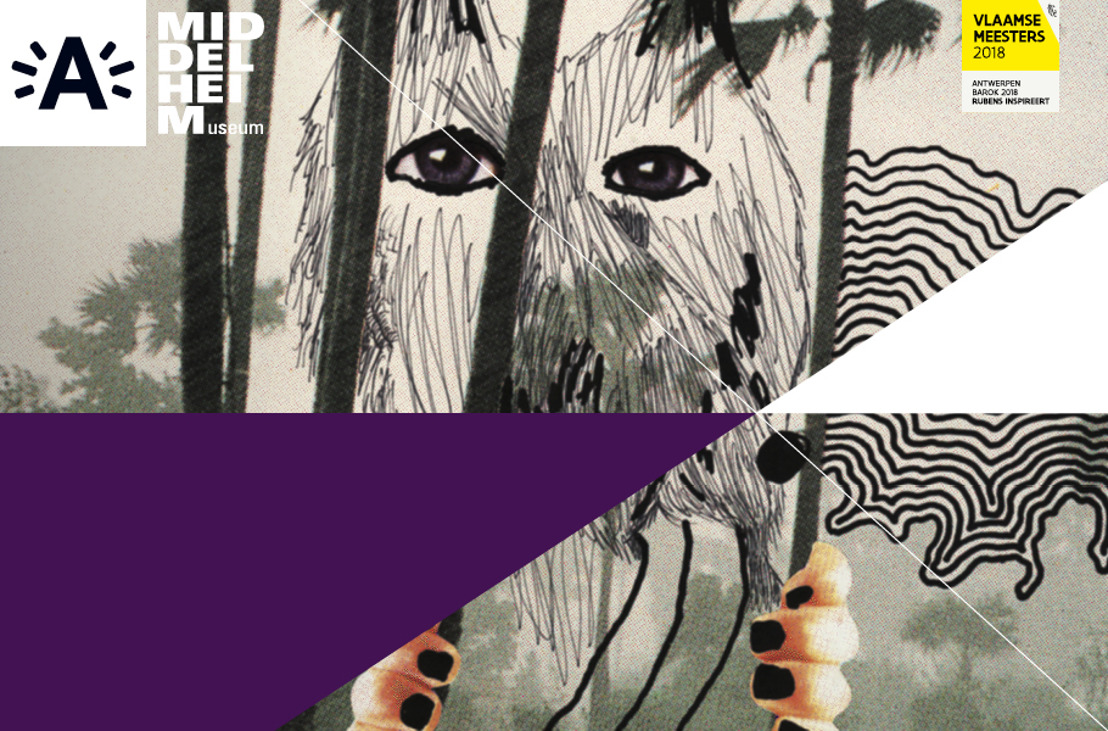 Middelheimmuseum - Experience Traps
01.06 – 23.09.2018
Tuesday, May 29, 2018 — In Experience Traps, the Middelheim Museum hosts a group of particularly fascinating artists who gather inspiration from the innovative ideas from the Baroque landscape. The both personal and diverse approach of the sixteen participating artists or collectives is expressed in architectural sculptures, installations and performances that appeal to all the senses. The works, often created especially for this project, can be enjoyed throughout the museum park and at select locations in the city.
The Baroque Garden - and the motifs and interventions that could be found therein, intended to create a special experience – formed the starting point for conversations. Each of the 16 artists contribute different insights and interpretations: they often make their contribution to the exhibition with various works of their own, and their works can be interpreted as several examples of the Baroque landscape elements. But, above all, each one of them links the Baroque heritage with a critical reflection of their own era.

Turbulent times
The Baroque era (around 1600 to about 1730) represented a fierce competition between the religious and secular powers. As world trade began to grow and flourish, a strong bourgeois culture emerged. The Baroque thus became a period of deep-seated social crisis: (religious) wars and the inquisition, famine, rural depopulation and the plague determined the rhythm of daily life. Forced to strengthen their positions of power and suppress potential disobedience, ecclesiastical and secular ruling classes sought guarantees and control over human behaviour. Art on commission proved to be an efficient instrument: a rational art form that could be used to direct and influence people and society.
Even today, 'control' is a word with far-reaching meanings. Marketers, policy makers, communication strategists and reputation managers try to master and manipulate the complex relationships between politics, the economy, society and the media as best as possible. We also leave nothing to chance on social media.
"Man believes that he is in control, but is actually himself controlled".
- François de la Rochefoucauld (1613-1680), French author
And what role is there for the artist in the midst of all this? An artist can confront the viewer experimentally with feelings of certainty and powerlessness, and reflect on our need for it.
How much space most of us really have to exert influence is investigated by Bruce Nauman in Diamond Shaped Room With Yellow Light. What starts out as an inviting and playful adventure, turns into thwarted expectations and disorientation very quickly.
As a counterpart to that physically oppressive experience, Mike Bouchet offers food for thought on how our behaviour is influenced through an invisible manipulation of our senses. Energy Fog uses an overwhelming artificial smell and makes us aware of this frequently used commercial practice.

Gardens
The deep human need for control becomes visible in a special way in the gardens. At the garden scale, humans seem able to control the chaos of the environment. Nature is brought under control, and that skill is seen as admirable.

To entice and surprise
From the 16th century onwards, aristocrats employed artists and architects to fill the garden and landscape with spectacular effects. The Baroque garden became a kind of pre-amusement park where visitors were surprised and entertained. Its success was directly proportional to the amount of artificial elements added to the garden: engineered labyrinths, rare and exotic fauna and flora (cultivated in pots and greenhouses), artificial caves, trompe-l'oeils, fountains, hydraulic systems that create mechanical birdsong, fake ruins, etc. Visitors are enticed and surprised again and again.
The artists in Experience Traps each have their own trap for the visitors' senses. But they replace every form of coquettishness with piercing observations of our present-day pleasure gardens.
In this way, Birdcalls by Louise Lawler transforms the exhibition pavilion Het Huis into a large birdcage with an ironic, automated echo, continually calling out the same artists' names. The works Stairs, Fence and Untitled by Monika Sosnowska can be interpreted as artificial ruins, in which recognisable architectural elements such as stairs, concrete and fences are disjointed from their functionality. The abstract form that remains, opens new possibilities and suggests new routes. The brutalist construction of Adrien Tirtiaux' Heaven and Earth is also reminiscent of ruins. But the hanging dome also lifts our gaze to the sky, as in the Baroque architecture, the ceiling elements and apse joined the glory of the heavens with our earthly existence.
The aristocratic Baroque gardens were exclusive; entering them meant that you belonged to the upper crust (something that was not reserved for common folk). People were willing to travel long distances to personally experience the phenomenon that was being discussed. It started an early form of garden tourism. The aristocratic garden became a destination; a social place where people met, shared and exchanged experiences. This idea of the Theatre Garden, where visitors 'walk' from scene to scene and where each 'station' tells a story, can be found in the works of Ulla Von Brandenburg and Dennis Tyfus. Both artists create a sculptural scene accessible to visitors, where performances are organised during the exhibition. Von Brandenburg shows how the trompe-l'oeil of the Baroque Theatre creates the greatest illusions for the privileged spectator, who could take a seat directly in front of the scene. For the others, they look upon the spectacle from the wings, which reveals the mechanics behind the illusion. The Folding House 2 by Monster Chetwynd also opens to the world as a platform for activity or performances.

Gained experience
Another type of garden was also important at the end of the 16th century. With the universities in full development, the botanical garden became a place where knowledge and science are shared. This garden is a place of study and experiment, where visitors, in addition to their senses, can also challenge their minds. Gathering insight and knowledge and ranking everything are ways to comprehend life and civil society. In this botanical garden (based on a collaboration and knowledge exchange), the medicinal properties of plants are examined, but even more attention is paid to classifying and organising plants.
This growing need for insight into natural phenomena is also mirrored in the fascination that develops in this era for celestial bodies. In Mars (sunrise), Spencer Finch links Baroque hunger for knowledge with our contemporary exploration of the planet Mars, as a surrogate for life on earth.

From two, one

In the garden of Peter Paul Rubens (1577-1640), Antwerp's greatest Baroque artist, we find traces of both garden models. Both of the exclusive garden, designed to impress, and the inclusive garden, inspired by the Cruijdeboeck (1554) by Rembert Dodoens (1517-1585), published by Christoffel Plantin (1520-1589) in Antwerp.
And also the ancient park environment of the Middelheim Museum is a combination of a park garden and a botanical garden: a few decades ago the Hortiflora was an example of a garden from Rubens' time, with plants from Dodoens' herbal book. Originally owned privately, today it is more than ever a social space where people come together to relax, meet each other and view the works of art. The artist can be a catalyst of such encounters, and offer material for conversation. That is the starting point of the Gelitin collective, which, with its work sculpture for a sculpture park, warmly invites visitors to participate and 'engage'. Without visitors, the artwork is only matter. Their Arc de Triomphe refers to the decorative triumphal arches and city gates (including the Water Gate in Antwerp) that Rubens designed as a city scenographer/architect to introduce new perspectives to the cityscape. In remembrance of such city enhancements, Recetas Urbanas developed a green sculpture called Montaña Verde (interpreted as a group of connecting triumphal arches) on grey De Coninckplein in the city. The sculpture is planted by and for the residents and visitors of the square with herbs and plants inspired by the crops found in Rubens Garden.

MOTION & PLACEMENT
The most special aspect of Baroque art is the further development of a number of innovations that were products of the Renaissance. With the commissioning of art, one sought to go further and generate greater impact: the viewer had to be moved from the inside. He had to become part of and an accomplice in the artwork. The suggestion of movement is so strongly set forth that it almost produces a physical sensation.
"Our life is nothing but movement"
- Michel de Montaigne (1533-1592), French philosopher
In this way, the works of Andra Ursuta strongly imply the possibility of mobility. Although they are not meant to be touched, they cause the audience to get an itchy feeling. By denying that satisfaction to the visitor, she builds the tension between the mental and the physical. This is also successfully achieved by choreographer and visual artist William Forsythe, who lures the visitor into a mental labyrinth with his complex movement instructions. With Underall, he refers to the continual shifts and instabilities we are confronted with as humans, but also to our cognitive ability to deal with this. The web of sound patterns in the work A (6ch version) by Ryoji Ikeda, fuses Baroque and contemporary pitches in the space of the Braem Pavilion. The vibrations invite playful observation: by moving quickly or slowly through the pavilion, the visitor can experience how the past and the present interact with each other.
Fountains also occupy a prominent place in Baroque (garden) architecture. After all, water is a pre-eminent metaphor for living, changing, swirling nature. Ingenious fountain systems, however, allow creative people to also choreograph that movement. The disobedient bundle of garden hoses of Fountain, the work by Bertrand Lavier, offer us a colourful and humorous interpretation of and a salute to the hobby gardener.
This exhibition consists of both optimistic and pessimistic interpretations of our contemporary human condition. As a whole, Experience Traps seeks to be a nuanced reflection on the contemporary experience society and experience economy, where we let ourselves be carried away, and from which we constantly expect unique experiences. We are guided by complex constructions of 'authenticity' and 'storytelling' and we try to position ourselves against the other(s) - e.g. through social media.
The inflatable and publicly accessible version of Stonehenge will likely spread like wildfire on Facebook and Instagram. Sacrilege is a work by Jeremy Deller, who, in his own words, wanted to realise an interaction between a large group of people and a monumental object.
Just as with this 'sacrilege', the exhibition will elicit individual experiences from visitors - both revealing and compelling.
Practical information
1 June – 23 September 2018

Middelheim Museum
Middelheimlaan 61
2020 Antwerp, Belgium
+32 3 288 33 60
middelheimmuseum@stad.antwerpen.be

free admission

opening hours: May and August: 10am – 8pm / June and July: 10am – 9pm / September: 10am – 7pm / visitors are welcome up to a half hour before closing time

closed on Mondays
Nadia De Vree Press coordinator of Museums and Heritage, Stad Antwerpen
Rafaelle Lelievre Press & communication Middelheimmuseum, Stad Antwerpen